Assisted Driving (AD) LiDAR
What is Assisted Driving?
Beam's Assisted Driving (AD) LiDAR is a safety feature that also serves to ease the task of driving a BeamPro in areas with many obstacles. The collision avoidance system uses a sensor to detect objects approximately 7" (18 cm) off the ground at an effective range of 6' (2m). It helps to avoid accidents by automatically reducing the driving speed incrementally as the BeamPro approaches a detected object.
Assisted Driving LiDAR is an add-on option available for our BeamPro devices only.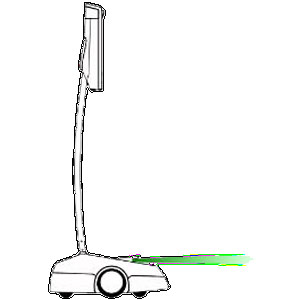 Limitations of Assisted Driving
Assisted Driving does not prevent collisions entirely. Obstacles outside of the LIDAR range like stairs, steep ramps, or objects suspended from the ceiling, may not be detected. The LiDAR cannot detect objects behind the Beam when moving in reverse.
Reminder! Always use caution while navigating your Beam Presence System.
Contact our Sales Department at This email address is being protected from spambots. You need JavaScript enabled to view it. to purchase the Assisted Driving LiDAR for your BeamPro!