Beam App Error - Beam has crashed! Restart?
If you are receiving the error message, "Beam has crashed! Restart?" (as shown below) this typically indicates that the graphics driver on your system is not compatible with the latest version of our Beam Desktop Application. See updating instructions below for Windows and Mac OS X.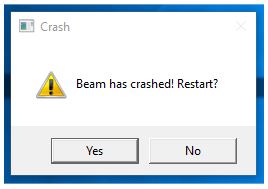 Windows OS
Most graphics driver manufacturers offer downloadable updates that are available on their website. To avoid this message in the future, we encourage you to update your graphics driver to the latest version available for your system specifications. To find which graphics driver your Windows 10 PC uses:
Type "Device Manager" into the Windows search field.
Click the drop-down arrow next to "Display Adapter" to view your driver.
Navigate to the manufacturer's website.

Download the driver for your operating system and graphics card model.
Note: A system reboot may be required following the installation.

Close and relaunch the Beam Desktop App.
Check for persistent errors.

Mac OS X
On Mac OS X, graphics drivers are integrated with the operating system. To upgrade your driver, you must upgrade to a newer version of the operating system. To update your computer operating system:
Click on the Apple menu in the upper-left corner of your home screen.
Select About this Mac.
Select Software Update...
Note: If this option is grayed out, this indicates that your OS is currently up to date.
If the error persists or additional assistance is required, please contact our Customer Success Department at
This email address is being protected from spambots. You need JavaScript enabled to view it.
.