We recently caught up with Barry Malkin, CEO of the leading STEM education resource Carnegie Learning, to discuss how they use their Beam telepresence robot to collaborate and interact on a daily basis as they develop learning software and curriculum.
He sees Beam in the office as a way to have richer meetings with remote team members and to set the tone for innovation, showing staff and customers that Carnegie Learning is always looking for new tools to get the job done.
If you happen to be attending the National Council of Teachers of Mathematics conference in D.C. this week, keep an eye out for Carnegie Learning's Beam! Congratulations to Carnegie Learning for being ranked #1 for Blended Middle School Math Solution by EdReports.org! Additional congratulations are in order for 20 years of providing transformative solutions for the math classroom. We're thrilled that such a forward-thinking company uses Beam to keep its team connected and more productive.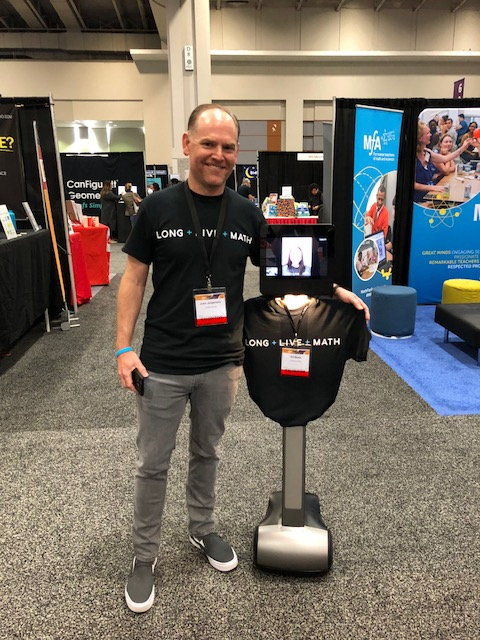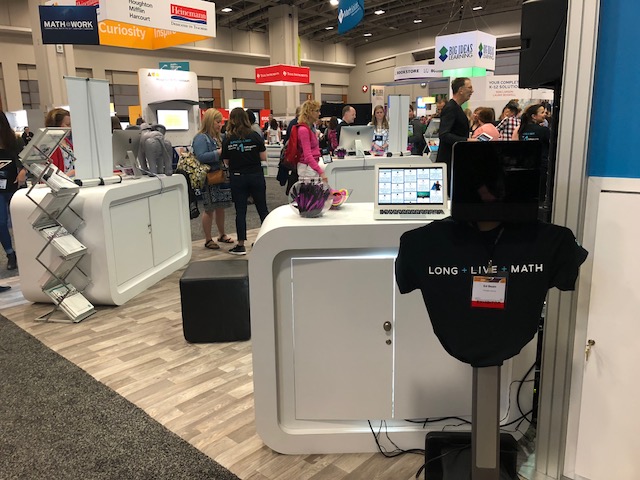 --
Q: Please tell us what Carnegie Learning does, and why you've achieved the honor of being named the the #1 ranked blended middle school math solution by EdReports?
A: Carnegie Learning is a leading publisher of adaptive learning courseware and curriculum for the STEM field. We serve hundreds of thousands of students across the country and provide them with software and resources to make math and computer science fun and engaging. Our adaptive learning software allows students to be tutored on a one-on-one basis through artificial intelligence and provides helpful feedback to students as they work through the program.
Q: When did you first find out about telepresence technology? Have you tried other telepresence devices? Why is Beam the right choice for you?
A: My first exposure to Beam was being asked to "Beam in" to a meeting at a company I invested in. I was aware of telepresence robots, but never had the opportunity to use one. The Beam was a lot of fun! Driving the Beam was an enjoyable aspect of the meeting and very useful, so we decided to add the technology to our office.
Q: Take us on a "day in the life" as Carnegie Learning's CEO - how does Beam connect your team, and how do you normally use it?
A: We get great utility out of it for meetings - we have a number of remote employees at Carnegie Learning and they often use Alice (we named our Beam Alice) to participate in meetings from various locations. At any given time of the day, you might see Alice moving around in our office. I have even used Alice to give an address at an all-company meeting when I was out of town. Oh, and I did roll up behind someone the other day and scare them – we do that as well.
Q: What is unique about Beam that can serve as a tool for educators?
A: Teachers and administrators always need additional resources, but the price point for many great educational resources are not affordable. Beam can help provide these resources by connecting people who are located in different locations, and bringing them together.
Q: What does Beam allow Carnegie Learning to do better?
A: Having a Beam at our disposal allows us to have richer remote meetings. In addition, we are an innovative education company and the Beam helps set a tone in our office that we are willing to try new things to push forward – even if it's unconventional.
Q: Do others on your team use Beam as well? If so, how is it most commonly utilized?
A: Yes, many others in the office use the Beam to meet and collaborate. We are also encouraging our employees to invite customers and prospective customers "inside" our office through the Beam. My hope is that visiting our office on a Beam will be a memorable, enjoyable experience that leaves them with a strong impression of both our company and the Beam.
Q: Do you use your Beam for personal reasons as well, to keep connected to family and friends? If so, how?
A: I have thought about bringing one home, but worry that my wife may prefer my virtual self on a Beam better than me in person, so I haven't yet. :)
Q: How did people initially react to your Beam? And how do they act around you when you're Beaming in now?
A: At first, they thought I was nuts, to be frank. But very quickly that initial reaction went away and now Alice is just part of the family and company culture.
This interview has been lightly edited and condensed for clarity.