This year's CES was memorable -- and not because of the two-hour blackout!
The debut of our newest telepresence model, the BeamPro 2, took the world's largest technology show by storm, delighting both long-time customers and new friends alike.


[Breanna from Sacramento, Olivia from Kansas City, Dominique from Telluride, and Josh from Moab join other Suitable Technologies staff on the CES floor via Beam.]
With much of our booth team doing what we do best -- allowing people to be anywhere, anytime, regardless of physical location -- we enjoyed rolling the convention center floor and chatting with other conference goers.
[CES attendees chat with Olivia on Candy Beam and wait for a sweet treat!]
Candy Beam was a huge hit, as always; not that we needed candy to get people to stop, but it's definitely a crowd pleaser!
It was also thrilling to experience firsthand the full-capacity of the new BeamPro 2 at CES. From the large (24") screen to the state-of-the-art audio (multiple speakers, fully digital mic) and visuals (super-wide 12MP cameras streaming in full HD with 12x digital zoom and multiple 3D depth cameras), navigating a large convention hall filled with thousands of people was easier, more intuitive, and more life-like than ever before.
[Beam pilots attended CES from across the globe via Beam, and had a wonderful time interacting with curious conference-goers who visited our booth.]
We enjoyed being interviewed by a variety of media outlets, bloggers, and others...
… had some fun (while reminding people that attending conferences you wouldn't otherwise be able to is indeed a great use of Beam) …
… got social with other CES attendees…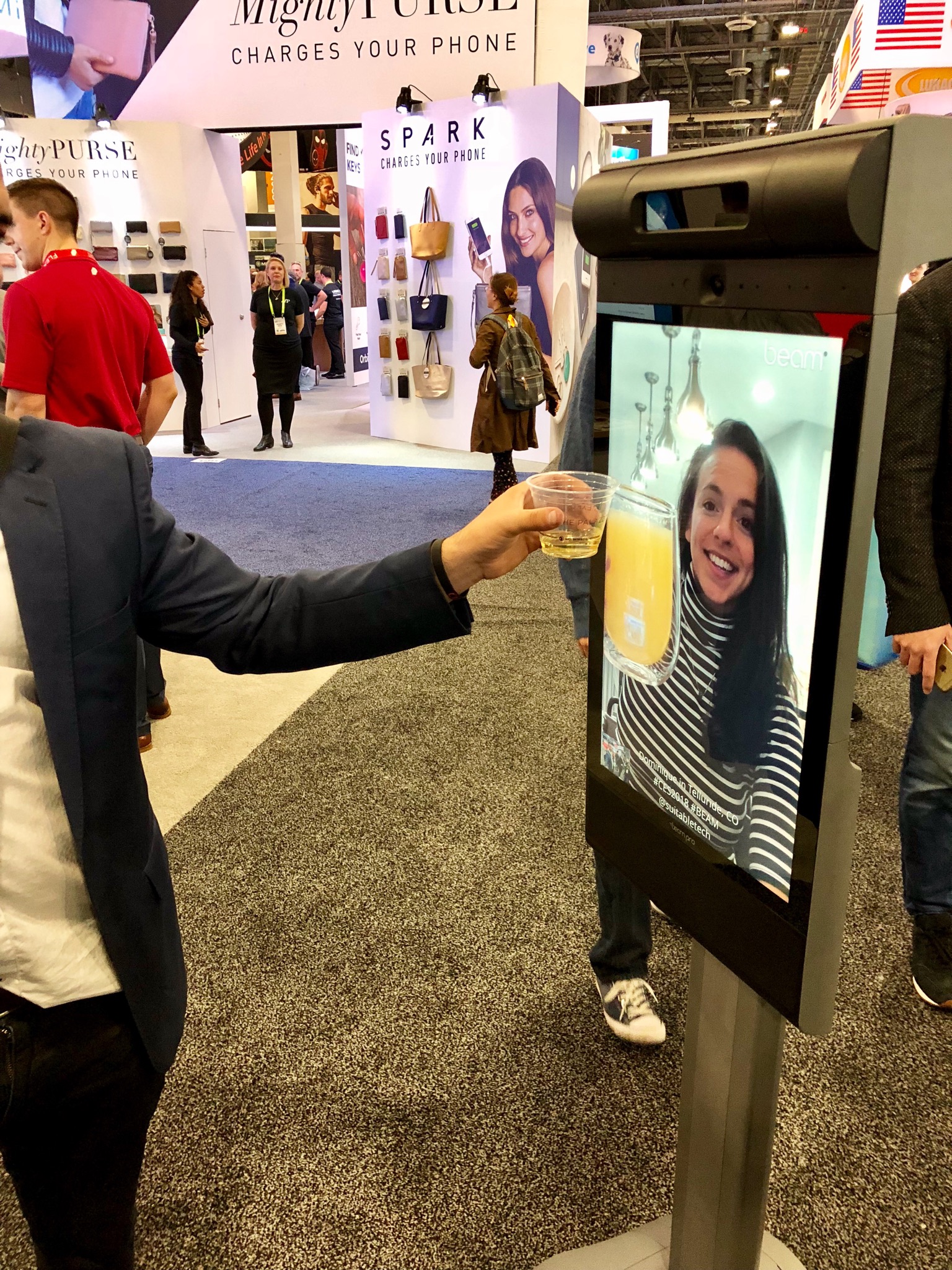 … and addressed some of the profound ways that Beam helps open doors that would otherwise be shut.
We value all the feedback gathered from speaking with CES attendees in person, and appreciate everyone who stopped by our booth, chatted with our team, and took the time to check out the brand new BeamPro 2, available later this year. Be sure to visit our website!
We'll see you next time!