OAC Services is a project/construction management, forensic architecture and engineering, structural engineering and building envelope consulting company with more than sixty years of history. As an employee-owned company serving clients and communities as trusted partners to design, build, and improve where people live, work, learn and play - OAC is a studio of subject matter experts and life-long learners devoted to enhancing the built environment.
We recently caught up with Managing Principal Shawn Mahoney, as well as employees Lindsay Avery and Kyle Richardson to find out more about their business and how they use telepresence to improve efficiencies.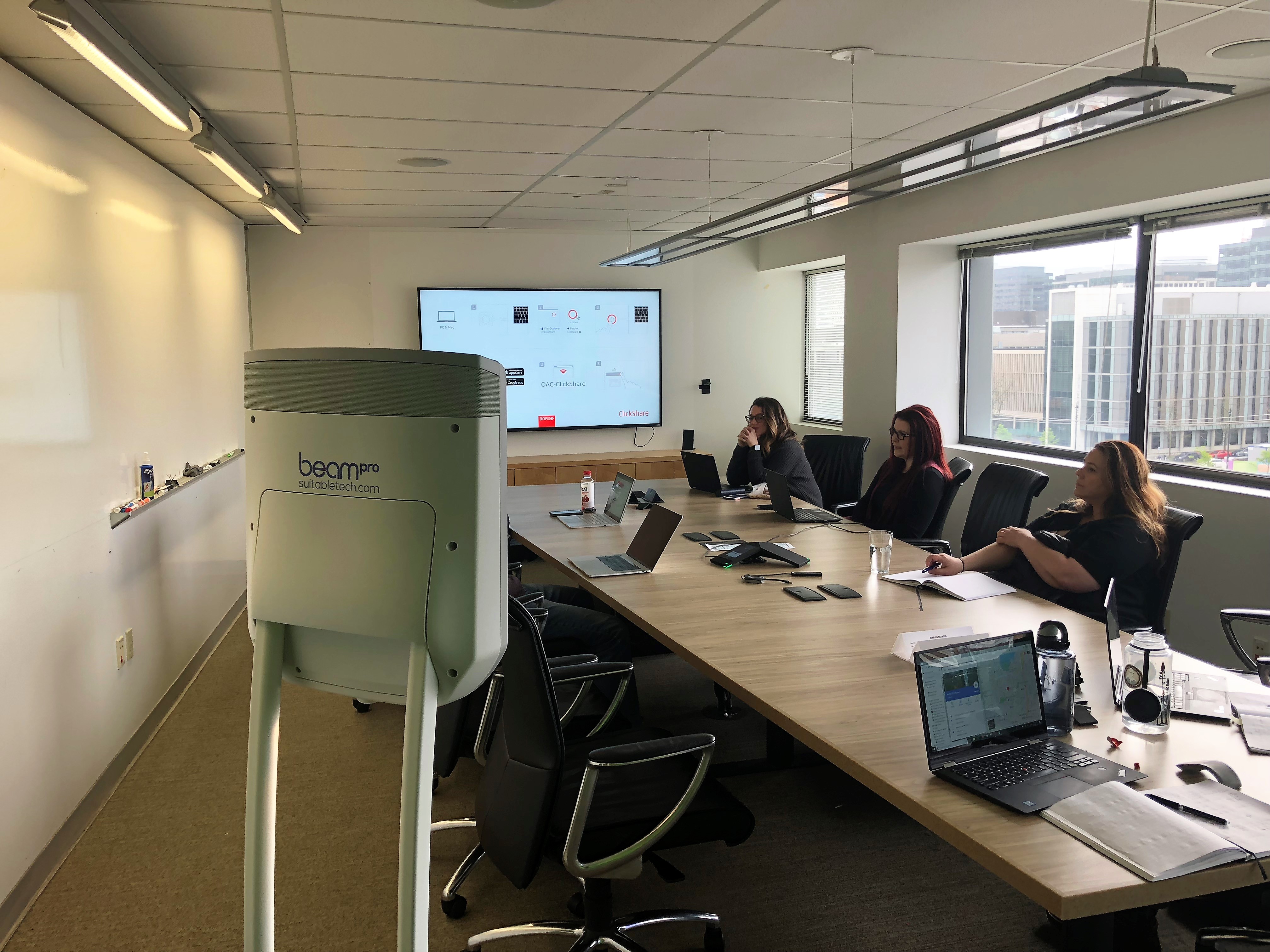 Q: How did you learn about telepresence technology? And about Beam specifically? How many Beams does OAC currently have?
A: Currently, OAC Services has three Beams – one for each of our offices in Washington. We learned about telepresence technology at the Consumer Electronics Show a few years ago - it was immediately apparent how this technology could help us since it was so interactive and so 'present.'
Because we go over plans, schedules, scopes of services, and other highly collaborative aspects of a design and construction project, the ability to have someone 'present' at a meeting even though they were thousands of miles away (or just a few but were too busy to get away) was immediately beneficial. When we looked further into telepresence technology, it was clear Beam was the right choice.
Q: How are you currently utilizing Beams? Do you use it to connect your remote team members, for client servicing, or both?
A: Our Beams are used for a variety of services. We bring them to conferences and tradeshows to garner attention and showcase OAC's focus on leading edge technology, but also so more members of our staff can network, answer questions and take part in these essential functions.
In addition, we use our Beams internally – from a principal 'Beam-ing' in for our all-staff meeting from Hawaii to staff members from remote offices and project sites utilizing the telepresence technology to attend internal meetings. We've even had staff attend happy hours with a client after hours by using a Beam.
Q: How has using Beam changed the way you do business?
A: Collaboration is essential to major design and construction projects. These are enormous endeavors with multiple clients, agencies, designers, vendors, contractors, subconsultants, subcontractors, advisors and representatives.
The Beams cut through so many communication issues – they bring us right to our clients and right into a project team meeting. Our Beams have really impacted how we can better serve our clients and improve efficiencies for our projects.
Q: Do your Beams have a special name?
A: One office calls their Beam "Hal" or "Robbie" sometimes when joking around and another calls theirs "Johnny 5."
OAC Employees on Using Beams:
"I thought the Beam was pretty incredible. I love how easy it is to use as well as how much fun it is to use. There's no need to change a bunch of settings or mess around with a bunch of wires or software systems. You just download the app and start driving. The experience of piloting is fun and easy, and as someone who has tested its limits and hit a few walls with it, that thing is sturdy. It's such a great tool and it really commands a room."
Lindsey Avery
Assistant Project Manager
"The components of the beam are excellent. In one example, we used the Beam to communicate with some clients in China, who had local team members dialed into a conference call at their office, and then tied into our Beam. In our office, we had another conference call going with more than three AV systems and 50+ people. Both the people from China and our internal conference call could all hear each other clearly and interact with each other in the meeting bringing everyone together. The Beam worked flawlessly with clear audio and visual performance, which was super impressive.
Another example is when we did a Beam obstacle course and scavenger hunt for a week. Everyone had to talk to a client, get a principal to interact with them on the Beam, attend a meeting, and take photos of certain signs throughout the office. The benefits of this technology were immediately realized. The Beam allows us reduce inefficient time expenditures like travel and literally be in two places at one time. We have seen significant time savings, and our clients appreciate the time maximization. The Beam system is a no-brainer."
Kyle Richardson
Senior Program Manager
This interview was lightly edited and condensed for clarity.