Three years ago, we posted a picture of Alice Wong meeting with President Barack Obama in the White House. Alice was there as part of the commemoration of the 25th Anniversary of the Americans with Disabilities Act (ADA). She was the first person to use a Beam in the White House (although we're sure she won't be the last).
Here's the iconic pic, taken by White House photographer Pete Souza: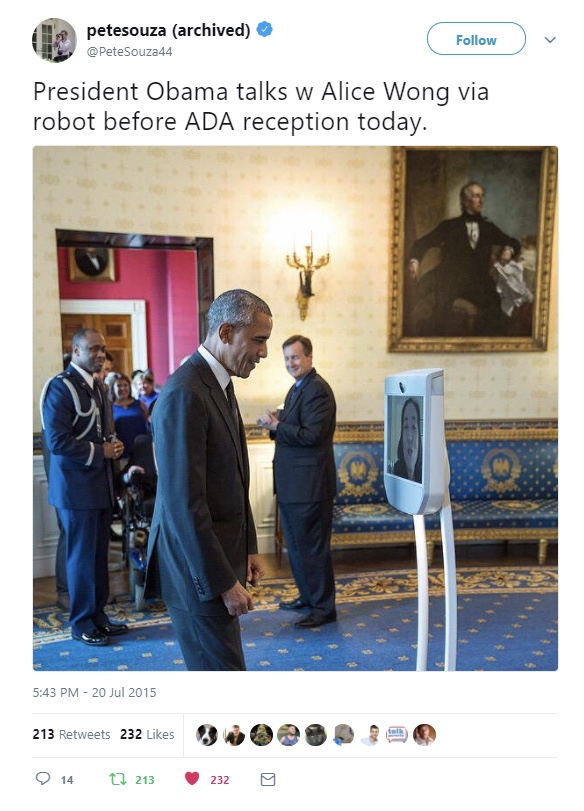 So, what has Alice been up to since?
She is the founder of the Disability Visibility Project, which is an "online community dedicated to recording, amplifying, and sharing disability media and culture." The organization encourages participants to record their personal stories at using Storycorps or the Storycorps app, a tool for "collecting the wisdom of humanity." There's also a podcast and a useful compilation of Twitter chats for resource purposes.
Alice is also a co-partner in #CripTheVote, a non-partisan online movement activating and engaging disabled people on policies and practices important to the disability community, with a vibrant online community on Facebook and Twitter. Currently they are working toward improving poll access and more representation for the disabled.
In a recent piece about Rep. Tammy Duckworth, Alice said; "Representation is about more than simply seeing someone who looks like you on television or in films. It is an opportunity to see someone like yourself with unlimited potential, freedom, and power—a way to imagine alternate realities for yourself."
We are happy to be one of the tools that Alice uses to ensure her freedom, and power.
And as we look forward to celebrating the 28th anniversary of the passage of the ADA, which was signed into law by President George H.W. Bush on July 26, 1990, we encourage you to check out the following inspiring interviews:
Looking for Options, Not Excuses: Catching Up With Henry Evans of Robots for Humanity
How Kavita Uses Beam to Pursue a PhD and See the World
The Benefits of Being a "Cyborg" (interview with Dr. Jennifer Rode)