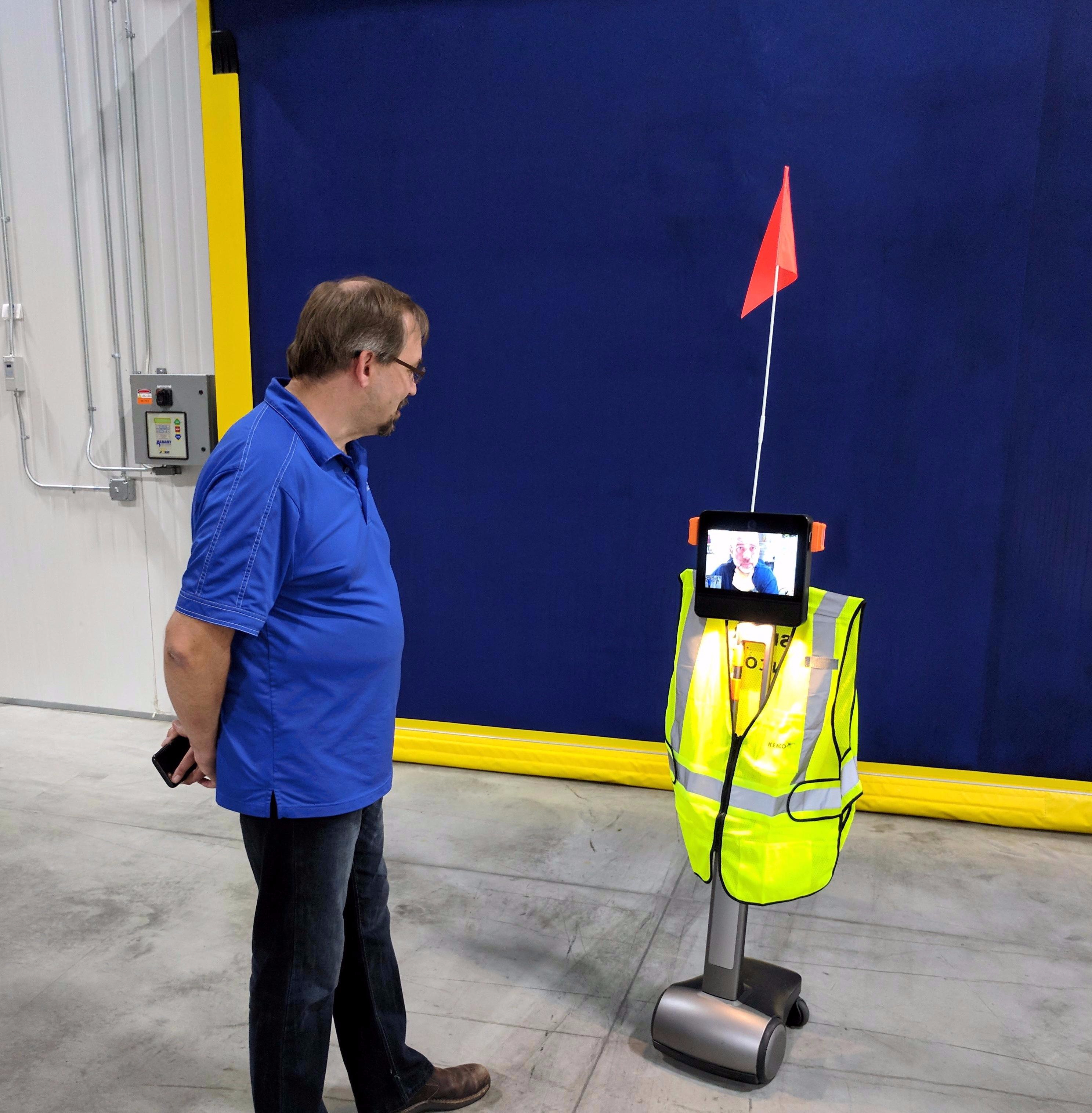 Kenco is a third-party logistics provider with 67 years experience serving customers throughout North America. With 90 locations and over 5,000 employees, Kenco manages 28 million square feet of warehouse space – equivalent to 486 football fields. We recently caught up with Kenco's Creative Solutions Manager, Trever Ehrlich, to find out how Beams have helped save time, money, and travel expenses; while also providing some additional unexpected benefits.
Q: Tell us a bit about yourself and about what you do at Kenco:
A: I work in the Kenco Innovation Labs as Creative Solutions Manager; we educate, research and prototype. We look at technologies and processes and bring them together in new and innovative ways to bring value to our company and customers.
Q: What made you decide to introduce telepresence technology into your company?
A: Our primary objective was to cut travel costs. As a company with many locations, our travel budget is massive; to say nothing of all the time spent on the road and away from home and family. Although nothing beats being on-site in person, we felt the Beam could help trim our travel expenditures while still allowing a virtual on-site presence. We checked into numerous telepresence solutions before deciding on Beam.
Q: How are you using Beam, and how did it help with your goal of decreasing the impact of travel on your business?
A: We have a Beam at our corporate offices in Chattanooga, TN and also have distributed Beams to some of our warehouse locations in the U.S. and Canada. Our management and support staff spend a lot of time traveling between warehouse sites, so the Beam has been used to allow instant communication, which saves us on travel and enhances interaction and support.
Beam instantly lets our team members interact with a warehouse location, including attending meetings, touring the site, addressing issues, and troubleshooting technical problems.
Q: Can you share some specific examples of how using Beams for remote communication has affected your business?
A: Beam has allowed our safety/security team to closely work with a new warehouse during its start-up phase, addressing vendor and technical issues in real-time. We've also noticed that our employees in training are now able to watch over the shoulder of the expert, observing problems being solved. And several executives in a boardroom have been able to visit remote locations "in person," via Beam, to get project updates.
Q: How has Beam helped you improve your budget bottom line? Were there any hard cost savings?
A: Even though we've only had the Beams for a few months, eliminating travel that would otherwise have been required already pays for several Beams.
Q: Were there any unexpected benefits of using Beam?
A: We initially meant the Beam to be for employees, but our customers have loved using the Beam to tour the warehouse and see their products as well. Also, instead of having to explain complex logistical issues over the phone, we can let the customer Beam in to see the issues for themselves.
Our associates have also warmed up to the technology very quickly. Several sites have already had fun naming their Beams (i.e. Sheldon, Viper, etc.).
Q: Are there any features that you find especially useful? Low latency, video quality, speakers, etc.
A: Three features, in particular, stand out:
Ease of use

– After just a short orientation, anyone can drive the Beam around and look like a pro.

Fisheye camera

– At first we thought we'd need a robot with an adjustable camera, but the wide-angle lens allows users to look around the warehouse and even high up on the warehouse racks (shelving).

Speed boost

– Our warehouses are huge, so the speed boost feature allows the Beam to follow on-site associates at a very comfortable pace, moving quickly from point A to point B.
We also like how the Beam is packed in a durable unit and is the most suitable telepresence option for warehouse operations. Beam also offers outstanding battery life – eight hours easily accommodates a full day of driving and meetings with associates.
Q: What are you finding works better for your business than, say, traditional video conferencing (i.e. Skype, FaceTime)?
A: Those solutions require coordination of two devices and two people, which are often hard to schedule. Beam allows one person to initiate a conversation at the click of a button, on his/her schedule.
Q: What are some of your employees' reactions to using Beam?
A: We've actually asked! Here's some of the feedback we've received:
"I've been on both the controller end and the site end when Beam is being used. It gives the controller on-site presence when they are actually hundreds of miles away. When escorting a co-worker around on the site end, I've been able to carry on conversations as though they were there in person and we're able to point things out to each other as we walked."
"'Viper,' our Beam robot, is a remarkable colleague and has added value and cutting-edge technology to our operations. Other start-up facilities would benefit from its use and technology."
"It is easy to show people what we are seeing and talking about with more information than just a picture. The Beam is a fun, interactive way to show people the warehouse and interact with others around the world."
"As a new facility, it allowed us to track various phases of construction, product load in, and now shipments to customers. We have been able to answer questions live as operators have them and pick up on concerns early in the process. We have also used the Beam to have our management team from overseas meet the warehouse team. We were able to use Beam to take the board members on a tour of the warehouse. This level of transparency has been eye opening."
We'd like to thank Trever for taking the time to share his story! Please share this story on social media channels if you enjoyed reading about Kenco's use of telepresence.