Wired magazine recently ran a feature about how our telepresence technology allowed several international students and researchers in the fields of informatics, interactive technology, and human-computer interaction that couldn't obtain U.S. visas to remotely attend the Computer Human Interaction Conference (CHI), held at the Colorado Convention Center May 6-11, 2017.
We caught up with CHI Conference co-chair Susan Fussell, Communication and Information Science professor at Cornell University and director of their graduate studies program for the Field of Communication, and her CHI Telepresence Co-chair, Carman Neustaedter, associate professor of Interactive Arts and Technology at Simon Fraser University, to learn more about their work, CHI, and how telepresence technology bridges the distance to make any conference or event accessible to anyone, despite geographic location.
BEAM: Tell us a bit about yourselves and what you each do.
Carman Neustaedter (CN): I entered into the telepresence field during my masters degree research in 2002. I was looking at people commuting from home to work using teleconferencing, and my research today focuses on families and how they use various forms of video conferencing to stay connected. For example, we've studied how grandparents and grandkids can use Beams. And we've been studying Beam at conferences, exploring issues like how do you present your identity in robot form, mitigate privacy issues, and so on.
Susan Fussell (SF): I study how people communicate by all sorts of mediated communication. In the past, it was text versus video and so forth. When one of the earlier Beam models came out, it was only around $2,000, so I thought, "This is our new direction!" I am committed to exploring [telepresence] in the workplace… it supports informal communication in a way that video alone doesn't.
BEAM: Tell us more about the research you're conducting with Beams at your respective universities.

CN: The telepresence technology we've built or used really helps to create a stronger sense of social presence. We feel what's lacking in remote/telecommunication is a feeling of embodiment. To solve for these issues, we take two approaches: we start with requirements gathering studies about how people use technology now – what they do and what challenges they face – and then ask ourselves: when this becomes more prominent, how will people really use that technology for more one-on-one connection? We do studies to see how we think that technology will be used in the next few years.
(The following video shows research being conducted by Dr. Neustaedter and students from Simon Fraser University's School of Interactive Arts and Technology (SIAT) about how telepresence and other technology brings long-distance couples closer:)
SF: We're about to take our two Beams out to a park to see how people engage with them. We also do lab studies that simulate team projects with people that are either remote or co-located using Skype versus Beams. The idea is that embodiment will make a difference in this kind of teamwork -- even if you're in the same room.
BEAM: What role did you play in making "Telepresence Attendance" an option for Computer Human Interaction conference goers? When the remote attendance option was being planned, did you realize that the implications would be further reaching than just those who had mobility issues or scheduling conflicts?
CN: My job was to find a way for people to attend remotely. Beams have been the best solution for the last two years, since they're readily available to rent and are a known solution. They're terrific for small group interactions, such as a workshop with 20 people who you want to talk to and get involved in group activities.
The general chairs were very proactive once the travel ban came out; they added a page on the site and posted on Facebook and Twitter saying, "If you think you'll be affected by travel ban or visa issues, contact us." They then forwarded these cases to us to take care of it. People were disappointed they couldn't come in person, but excited that telepresence allowed them to be there. Maybe they had a paper to present or a session to go to – Beam made an impossibility a possibility for them.
SF: We were committed to making it happen, so I brought Carman and his co-chair Min Kyung Lee on board. Originally they were planning on getting something like eight or so Beams, and then there was a panic over all these people that might be stranded. The team at Event Presence stepped in -- they gave us a great deal so we could get 14 for the same price as the original amount of Beams.
BEAM: Any great Beam stories from CHI?
CN: There was one particular student that was selected as part of a lottery to be a student volunteer at the conference. The lottery has hundreds, if not thousands of applicants, and it's very prestigious to be chosen. Heartbreakingly, this one student got denied entrance to the US a couple of weeks before the conference. After a few discussions, we thought of bringing her to CHI via a Beam, and still let her be a student volunteer.
We took a Student Volunteer shirt and put it on the Beam, and she went up and down the halls and directed people by holding up signs on the Beam screen. Seeing someone from a different country fulfilling that role was really special. It also showed that CHI was open to having people from all over the world participate in meaningful ways.
BEAM: What's the most valuable aspect of telepresence technology to you? What are the benefits for individuals using telepresence technology as well as for society as a whole?
CN: I think it's increasingly common that people live far from family and friends. Telepresence expands what people can do with other people other than a face-to-face conversation. In real life we go walking together, ride bike rides together, etc. Video technology has solved conversations pretty well; now we have to expand on what we love to do with family, friends, and coworkers -- those experiences that build relationships and make those bonds strong.
SF: I think the most valuable aspect is the support for informal communication in the hallways - going beyond planned meetings. We have two campuses now and I met some new people there accidentally when they were wandering around one of my local buildings for another purpose.
BEAM: Do you use Beam personally?
CN: One really fun experience at CHI this year was having my kids (ages 3, 8, 10) join the conference for a bit. Normally I go to the exhibit hall and pick up swag for them and bring it back home as a reward for me being away from them. This time, they joined me via a Beam and drove around the exhibit hall and picked out their own swag. It was super fun.
Also, I've been on sabbatical since September, so I'll periodically pop into school; I've gone to faculty meetings, student lab meetings and so on. It's kind of funny, I recently was on campus in person, and someone said to me, "I'm used to seeing you as a robot." It's amazing how in just a few months students are more used to seeing me in that form.
BEAM: What improvements would you like to see made to the Beam?
CN: The biggest thing, which we've been testing, is getting different camera views. We've been attaching a 360-camera so people can look around. Of course you can turn around by physically turning the Beam, but we want people to turn their head and easily see all around them. We're going to study that this summer: a person at home will use Google cardboard to get an immersive view of the 360-camera attached to the Beam.
At a conference in the main venue where a person is presenting and slides are being projected on the screen, it's not such a great experience by Beam. Every time we get the same feedback: "I love feeling like I'm physically there, but I can't really see slides and it's hard to hear the speaker." Still, it's better than not being there at all. Currently the ideal solution would be to have the speakers streamed online, and then use the Beam to participate in smaller group discussions afterwards.
SF: One of the limitations right now is if I want to Beam somewhere else, I need the other side to have one, too. But when I tell people how relatively inexpensive a Beam is, they get pretty excited. So it will happen, but it just hasn't quite yet.
BEAM: In the next five to ten years, what are some breakthroughs in technology that you're excited to see – not just in telepresence robots, but other technologies that connect people over a distance?
CN: The biggest thing is richer sense of the remote person. Right now they're flat – usually on a small phone, tablet, etc. – and they don't have a physical presence as much as they should. Beam is the start to that. But other things like projections or holograms can take it to the next level. I believe it will be about showing the remote person in a much more sophisticated way in the next five to ten years.
SF: I have a colleague who wants to compare VR to Beams. Now that will be interesting.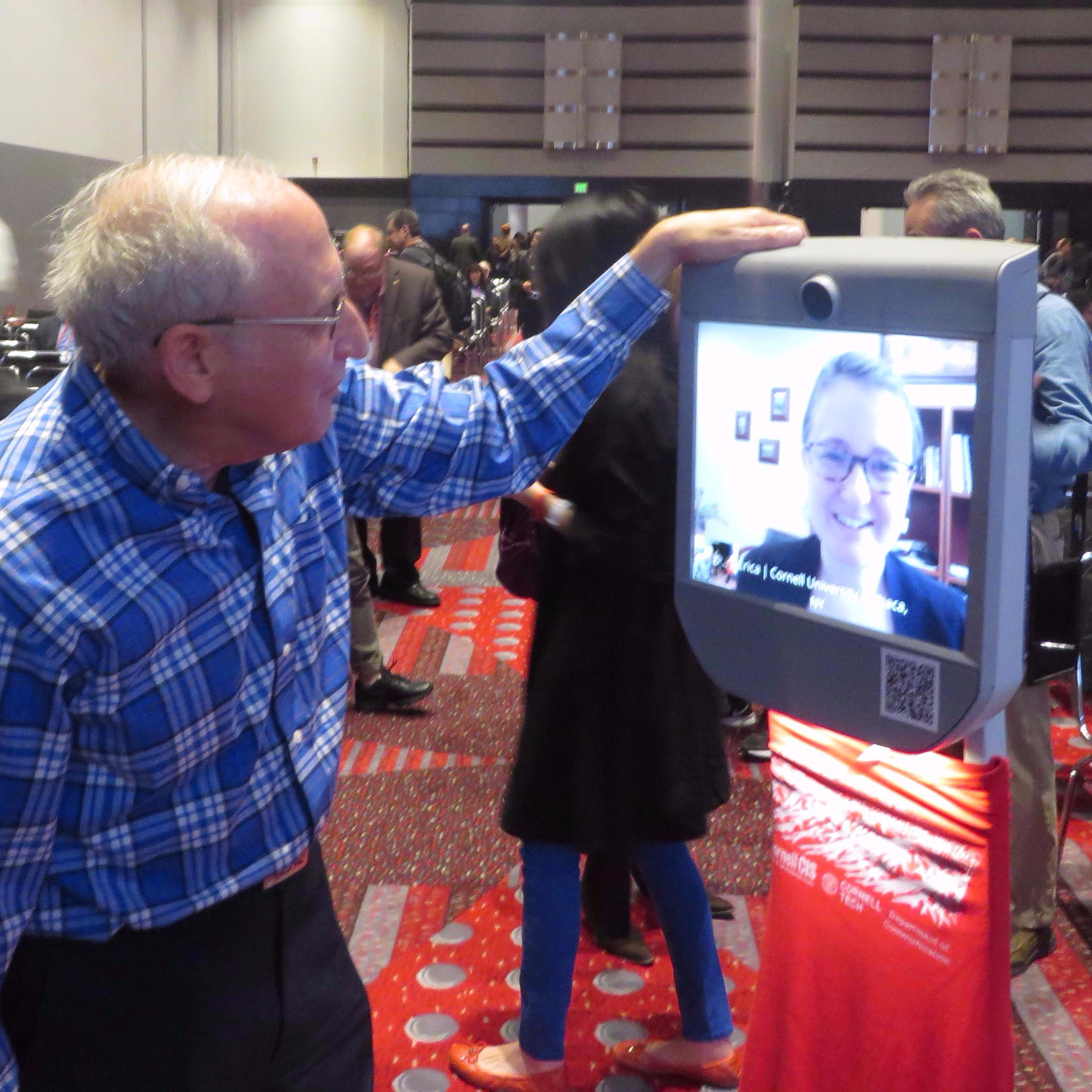 Photo credit of Beams at the CHI Conference: Elijah Weber-Han